seo/sem services
The BRITE team are aficionados at helping you Find, Convince and Convert online.
The Digital Marketing partner you need
Search Engine Marketing can jumpstart your online marketing campaign, support and grow your existing campaign and complement your organic SEO (search engine optimization) development.
verified and Certified for magnified results
BRITE is a certified Google Partner — a designation that is earned by demonstrating the ability to expertly manage the platform by Google certified practitioners. We are also a YEXT partner maximizing this platform for optimal website listing and linking — a key SEO strategy. With new algorithms favoring voice search, it's more important than ever to have a partner with experience to help you achieve top ranking.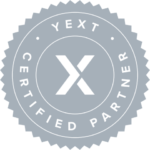 Digital done right
With over 40,000 search queries performed every second, navigating PPC (Pay Per Click) campaigns on Google, Bing/Yahoo, managing reviews and content submissions, and sorting through the data to make sure your brand is performing well- is tumultuous. We work tirelessly to manage your budgets, optimize your returns and performance and monitor the horizon for changes and updates. And we ensure that you aren't using 'black hat techniques' that can penalize you with the search engines.
SEM initiatives are directed by BRITE's Google Certified Practitioner Allison Rivera, MBA. Allison is well-versed at translating digital speak into business results. Whether your goals are lead generation, brand awareness, optimizing your current campaign or you're not sure, were happy to help.
The metrics that matter
In addition to delivering quality traffic to your website, SEO is trackable, sustainable and measurable. Through the use of Google's Analytics Platform, Search Console, and Google My Business (Local SEO), BRITE will track a variety of metrics and KPI's which we share with our Clients. Below, are just some of the metrics that we track and include in our detailed monthly reporting:
Ranking
Impressions
Website Visitors & Sessions
Conversions (form submissions, phone tracking, live chat, etc.)
Demographics
Search location
Search device (e.g. mobile, desktop, laptop)
Content Performance
Key Performance Indicators (KPI's)
Services
Content marketing
Google Ad Network
Bing/Yahoo Ad Network
Web design/development
SEO/SEM (audits, consulting and technical)
Measurement and tracking
Shopify and eCommerce marketing
WordPress
Conversion rate optimization
Google Maps
Web development UX/UI
Page speed